The trailblazing entrepreneur discusses his fascination with world-building and how the genre-bending 'HiROQUEST' album melds tradable card games and tunes in a "first of its kind" scenario.
MEGAN VENZIN|GRAMMYS/SEP 13, 2022 – 01:33 PM
He's a globetrotting DJ, a best-selling author, a renowned restaurateur, a label boss, a philanthropist, a film scorer, and a cake-launching showman. This vast list of titles could only belong to one man: Steve Aoki.
Aoki has unleashed energizing music since the 1990s, first lending his vocals and guitar skills to post-hardcore and punk bands like This Machine Kills, Esperanza and The Fire Next Time. He launched his own Dim Mak label in 1996 and swiftly locked into discovery mode, establishing a clear runway toward success for seminal indie-electronic acts like Bloc Party and The Bloody Beetroots while he was at it.
In the past decade, Aoki's has focused mostly on EDM, where he's racked up a number of accolades including repeat appearances on Forbes' top-paid DJs list, as well as single digit placements in DJ Mag's Top 100 poll. That's all in addition to opening his own quick-service yakitori spot with his brother Kevin, Kura Kura Pa, and another club-based pizza concept, PIZZAOKI, as well as penning memoirs, funding brain science research, and clocking hundreds of shows per calendar year. His secret to staying on top is that he simply never slows down.
"Every single project that I've done has, on some level, been informed by my environment, and I think that's what allowed me to become such a global artist instead of sticking to a very specific sound," Aoki tells GRAMMY.com ahead of the release of his newest LP and crossover venture, HiROQUEST: Genesis. "I think music is much more fluid than that, and that's why I'll literally go through so many genres."
The forthcoming album, which arrives Sept. 16 via Dim Mak, is a testament to that fact. Its 20+ selections weave through waveforms shaped by rock riffs, country strums, Latin heat, hazy rhymes and the types of blissful, vocal-forward EDM hooks that make Aoki famous. For longtime followers of Aoki's output, it's a welcome return to his roots and a shining beacon of what's still to come.
HiROQUEST: Genesis features collaborations with established stars like Timmy Trumpet and emo pioneers Taking Back Sunday, but it also serves as an introduction to the artists Aoki believes will be the "next big guys." The LP is intricately connected to MetaZoo, a hugely popular tradable card game (TCG) for which Aoki is also the co-founder.
"During COVID, I was into Pokemon big time — I mean, I spent $420,000 on one Illustrator card, so yeah, I'm a little obsessed," he shares with a laugh, explaining how he first became enamored with the collectibles community. It only made sense to share his enthusiasm for TCGs with his loyal fan base by bringing his MetaZoo IP and music together in a way that's never been done before.
GRAMMY.com caught up with Aoki to learn more about how he hopes to transcend cultures with this novel crossover, and why he's never one to shell out music — or a business plan — that's played out or predictable.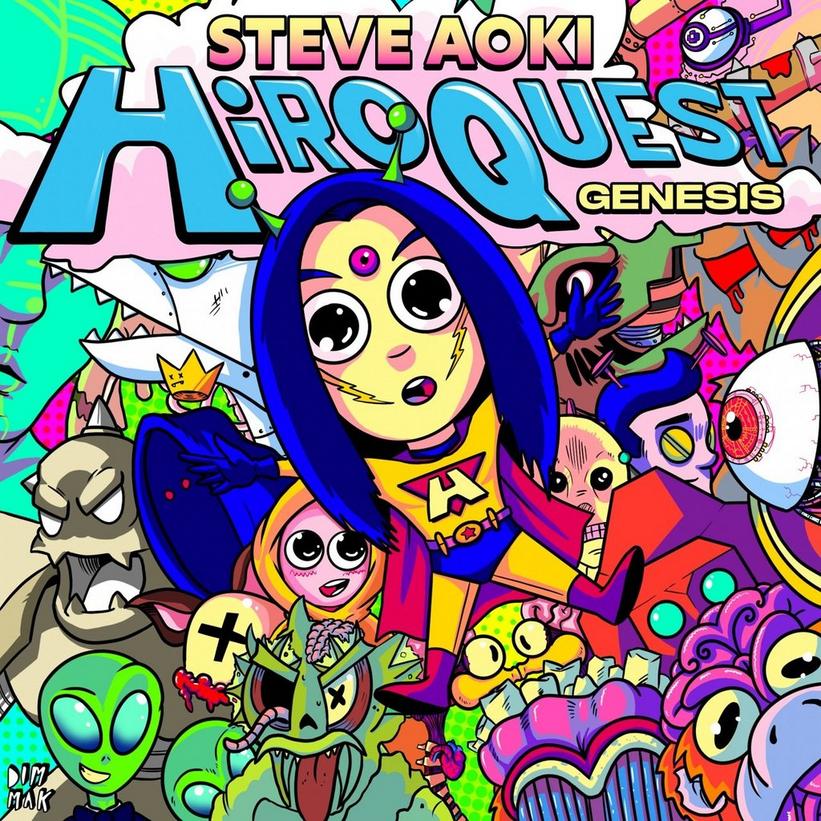 There are so many tracks on HiROQUEST: Genesis. How do they all fit together?
It's really 21 tracks, because there are five melodias which introduce the five different factions of HiROQUEST, who are essentially this world of characters who exist in the future. I wanted to really connect the world-building that I'm doing outside of [the studio] with the musical side of HiROQUEST as well, and the album was one way to do this.
Was this conceptual approach something you always wanted to take, or was it a product of the COVID slowdown?
This album was born in the pandemic, and it was completely different from any other project I've done. I made it in an effort to keep up with the global brand and sound of Steve Aoki — regardless of the criticism, the hate, whatever is out there, I'm always looking to explore and work in new genres, and this time the core of the album turned out to be very self-reflective.
I had so much time to experiment, and previous to COVID, I've kept a steady schedule of never breaking below 200 shows in a year. When your schedule is that structured, everything that you do has a purpose, and it has a deadline. There was no time to have free flow — and I wanted that, but I also wanted to stay on track and pump out music. During COVID, I realized there's no f—ing deadline! I'm gonna experiment. I want to grab my guitar. I'm gonna grab my bass. I wanted to have fun and also I wanted to make high frequency music because I was getting really into mindfulness and meditation, too. I was going all over the place and a lot of that music ended up in NFTs.
In that same period of time, I thought, wouldn't it be interesting to go back and focus on more of the alternative rock sounds that I loved growing up that I'd buried, almost, when I became a more prolific electronic artist? I thought I'm going to go back to my roots of being in a band and with that note, I'm gonna really put on my A&R hat and find the new artists that are really exciting right now.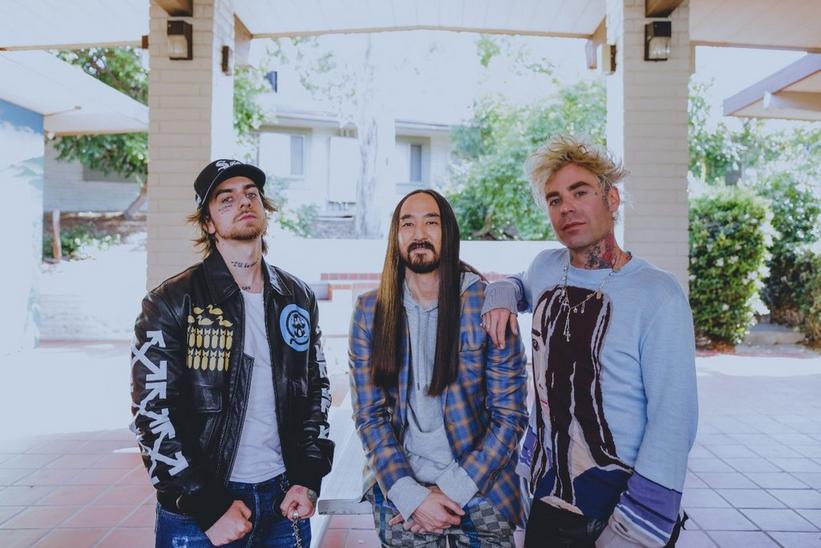 On first listen, its punk aesthetic really stood out, which makes sense considering Dim Mak's beginnings. Was it cool to reconnect with that nostalgic energy?
I remember when I heard Bloc Party's "She's Hearing Voices" in 2003, and I was like, this is f—ing incredible! And they said you're the only label we want to work with because we don't want to sign to a major label. So then I put out the Banquet EP in 2004. Then I heard the Kills' demo and I released the Black Rooster EP. I just remember those times when it was just so exciting to hear something that you knew was going to blow the f— up.
And now I feel this way about the artists on this album. There's Latin, hip-hop, EDM, and then we have people like Kane Brown who's a rising massive country singer. I wanted to maintain that genreless feel, but obviously, a big part of the LP's core is rock.
Who are some of the artists that gave you those big feels you just mentioned?
Taking Back Sunday is also a pretty exciting collaboration, because it was the first of its kind. They'd never worked with a DJ, so for me, I knew I had to do this. When I was in the studio with them, they told me "We haven't even worked with another artist in 20 years." So, that's a big deal for both sides! There's a lot of firsts here.
I've run my label Dim Mak since 1996, and I love discovering and finding bands, and growing artists. As a producer, I also exist in a different layer of A&R that really supports artists. That's why it's really cool to work with No Love For The Middle Child, Grandson, Mod Sun, Global Dan and Goody Grace. These artists have their own followers and are popular in their own right, but they are also going to be the next huge names.
HiROQuest is deeply intertwined with the MetaZoo card game universe, for which you are a co-founder. Explain how this works because it sounds wild!
HiROQUEST has two parts: There's the music side, which we talked about, and there's the non-music side, and I wanted to connect these worlds together. It's amazing to be part of different cultures where you experience a frenzy of energy and this collective chaos of love. The people that are part of the MetaZoo community, they are obsessed in the same way that crowds are obsessed at festivals. TCGs and music have never been connected in such a way before, so that's the idea behind HiROQUEST.
We created 70 characters, I think 22 of which are new and the other 48 are existing MetaZoo characters that we introduced to these five different factions. And it's about telling the story of the future cryptid world of HiROQUEST and building it out with this community that is just absolutely f—ing crazy about this stuff. And to give you an idea, we dropped a HiROQUEST CD to introduce the 70 cards in the set. Now, dropping a CD is something I haven't done in a while! In the five hours we let it sit online, the CD sold 30,000 copies.
Steve Aoki. Photo: Xavier Luggage
Given the success you've seen already, do you think more TCG crossovers could emerge in dance music the same way NFTs exploded over the last few years?
This has never been done before. It's a unique situation in that I'm half owner of MetaZoo, and in reality there aren't a lot of TCGs out there — there's MetaZoo, Pokemon, Magic the Gathering and Yu Gi Oh. But as with anything, if it works and people see that it works, a trend could take off.
There is some crossover happening already, like Magic The Gathering, for example, they introduced a Post Malone card and he's been vocal about his love for the game, but he didn't put out an entire album to go along with a set of cards. HiROQUEST is the first time something of this scale has ever happened, and I'm super excited about that.
Are you working personally with the illustrators who make the cards that come with the album?
Yeah! We work alongside the illustrators to come up with the different characters. We've introduced most of the new characters through my single art.
Like with "Kult," for example. I told the illustrator, "Okay, I want this dude floating — you know, like a cult leader, with a hood. On his face, I want him to have these massive anime eyes. I want his mouth to be really tight — I go real into detail, not necessarily drawing it out, but sometimes I actually do just that. I'm absolutely very detail oriented on the art side.
You must have a very focused brain! Was meditating what led you to start The Aoki Foundation, which supports organizations in the brain science and research areas, or did the foundation lead you to mindfulness?
I was just in Ibiza. I sat on a cliffside over the ocean and let the sun hit my face for 10 minutes. Earlier today I had an ice bath. Meditation is so important and there's always time for these things.
Honestly, I'm not sure which came first, but I've always been obsessed with sci-fi and the idea that within these worlds — even though certain aspects are depicted as fantasy — that with the right minds and research, someday some of those things could eventually become true. And I'm curious about the concepts of anti-aging; I want to live forever, I want to do all of these crazy things. I have the means to help make some of that happen, so why not put it into a foundation that can directly support emerging treatments and technology?
Are NFT Record Labels The Future Of Music?
–
Taken from:
https://www.grammy.com/news/steve-aoki-interview-hiroquest-genesis-card-game-metaverse-edm-interview